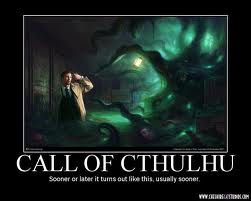 Session One;
Called into the office of Spiro Theopolis, Managing Director of Arkham Investigations Inc., William Evans was handed a telegram by his angry-faced boss. Dated January 1925 it was from an old aquaintance, a friend who he hadn't seen for some time, but still a valued friend all the same. It requested he gather some investigators together and get to New York for the following week for his friend, Jackson Elias had some interesting news about The Carlyle Expedition.
Luckily Evans had some investigative friends handy; Prof. Erasmus Quicksilver (incurable racists and collector of pornographic statuetes), Karl-Heinz Stockhausen (philanthropist, pugilist and cad), Yakamoto Jones (drifter) and Charles Luciano (thug and 'business' partner of a Mr.A.Capone). After some research at Arkham library it was found that the Carlyle Expedition was raised in New York in 1919 by a rich playboy and sailed to London then on to Egypt before vanishing in Kenya, never to be seen again.
After convincing Theopolis that they might be onto something the party departed for New York and were contacted at the airport by Elias Jackson by telephone. He seemed somewhat evasive and agitated and suggested the party meet him at 8pm at the Chelsea Hotel, room 410 – a fact the players quickly forgot ! After arriving at 7pm and vainly searching for room 1050 at last someone remembered the correct information ( via a Luck roll) .
Rather than heading straight to the room the party were ultra-suspicious (it IS Cthulhu !) and all manner of bizzare plans were suggested (the best being by pretending to be room service and gaining entry to an adjoining room – foiled due to the couple copulating in the said room refusing to answer the door). Jones crept to the door of 410 and peered under it. He sensed a presence there and detected slight movement. Evans, the stolid Great War veteran ran to reception and had the room rung. Jones could hear the ringing from his crouching position outside yet no-one answered. Smelling a rat it was decided that force would be the number one priority and Stockhausen and Jones shoulder-barged the door from its frame.
The scene inside 410 was horrific. Sprawled on the bed lay Elias with his guts and innards snaking out of his stomach and a symbol carved into his forehead. Cue Sanity checks for the party. Luckily all passed and held their nerve which was just as well as 4 cultists were waiting in the shadows. Fight !!
Stockhausen was slashed in the stomach by a machette-weilding dark-skinned cultist and nearly bled to death. Luciano put his gun skills to good use and blasted away at one of the assailants whilst Evans' sniper skills came back with a vengeance. Poor Prof. Quicksilver parried another and saw his derringer break in the process. They thought it was all over…well it is now.
3 Cultists and Elias lay dead, another Cultist was beaten unconcious whilst Stockhausen went pale at the sight of his own blood. Clues were found amongst the cadavers – letters to Elias, a matchbox from Shangai and a business card. Hearing approaching police sirens the party fled via the fire-escape with the slumbering cultist. The Keeper questioned was this wise ? No-one'll know it's us, was the reply. Hmm…hardly low-key were they ?
A car was quickly and expertly stolen and a lead to Carlyle's very rich sister was taken. A quick drive to her mansion in the suburbs and after some Credit-Rating rolls backed up by a critical Persuade roll gained them an audience with Erica Carlyle. Much hilarity was had at the bumbling attempts at explaining why exactly they were here and the party were almost ejected from her house until a very, very lucky roll of the dice caught her attention enough for her to reveal her brother had been having nightmares after reading some strange books he had. These strange books were still in the library of the house and the party were allowed to peruse them. Oh dear, oh dear, oh dear…
The contents of some of these books were horrific – frightening and gruesome pictures accompanying violent text. welcome to Cthulhu Mythos !! Sanity rolls were required of Evans and Jones who skimmed the worst of these volumes and both failed miserably. Jones had a sudden fear and lothing of fur. Wasn't that a rug in the corner. A rug…made…of…fur. He cried uncontrollably for five minutes before vomiting over his shoes. Evans fared no better for the visions depicted before him sent his temporarily insane. He started gibbering and speaking in tongues, his sudden multi-personality flitting from welsh to indian to finally a little girl's voice.
After an hour all were suitably recovered and Erica re-entered the library. She'd had time to mull over what the party had told her. A chance her brother was alive after all these years was enough for her to have her P.A join the investigation. Enter Miss Anushka Baranova descendant of Russian Tsars…..
to be continued….