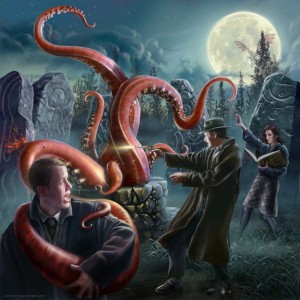 Missing books, missing papers and a showdown in Harlem…
Session held on 7 October 2014
It was a sombre breakfast on Wednesday 14th January. Each of the party mulled over the horrendous death of their friend and why he had been slain. Worryingly that morning's newspapers contained a piece about the carnage in room 410 and ominously the names of Rivers, Howard, Murray, Du'Thame, Kane and McTavish were also mentioned. If there were enemies out there then they knew the identity of the party now.
A visit to Jonah Kensington confirmed that he had nothing sinister to hide – he was as devastated as the rest and between sobs he stated that he would take care of Jackson's funeral arrangements.
Baptiste then made a phone call to Miriam Atwright at Harvard University who revealed that the book Jackson was seeking was called 'Africa's Dark Sects' and had vanished mysteriously from the library some weeks before his request. A strange, foul odour was encountered where it should have been.
Most of the party presented themselves at the Police Precinct where they were roughly treated by the desk-sergeant and then grilled at length by Lt. Poole. A few hours later he was finally satisfied of the party's innocent involvement in the room 410 incident and he let slip a few details of past, similar murders.
Inevitably the party split, as ever giving the Keeper a major headache, and some made their way to Emerson Imports and others trooped to the Medical Records Board and others skipped gaily to the Library (they took a taxi actually, but it sounds better).
At Emerson Imports it was learned, through the shouting and swearing, that Jackson Elias had been here not a week ago and had asked almost the same questions – the answers being that Emerson Imports is the only U.S agent for a Mombasan exporter, Ahja Singh. Singh's only U.S account is the Ju-Ju House in Harlem run and owned by Silas N'Kwane.
At the Medical Board offices various bribes, fast talks, pouting and hysterical screaming almost, almost got access to the records of Dr. Huston, one of the Carlyle Expedition participants. I say almost because as the helpful secretary was about to let them in Lowenstein, unexplicably, threatened her.
Outside on the sidewalk everyone glowered at Lowenstein and he decided it was best that he spend the rest of the day seeking out the requisite form to gain entrance to the records office – form B6912-Delta50614 (part 2) – pink copy – in triplicate.
Miss Rivers went to research whether the Carlyle's had ever owned a yacht matching the photo found in room 410 – chillingly she was told that this was 'classified information'.
Baptiste, Howard, Du'Thame and Murray then made a strange move – to venture into the roughest, most dangerous part of black Harlem. Four white foreigners, one dressed in a top hat and tails, all carrying carpet bags bulging with guns. Ha ha ha ha. How my sides hurt with laughing. Was this a good move ?
Hint one from their taxi driver who refused to go within 4 blocks of their destination.
Hint two from a white Italian-American who offered 'protection' and declared them 'dead men' when they refused.
Hint three came when a mob of silent, cudgel wielding blacks emerged from every alley, every doorway and hiding place to surround the fools…er…party.
But still they insisted upon carrying on and Du'Thame was disarmed and taken into the Ju-Ju House with a machette pressed to his throat. The Ju-Ju was a small dingy shop selling African curios and here Du'Thame was questioned by Silas N'Kwane about the party's intentions and forray into Harlem.
Du'Thame told them they were friends of Jackson Elias and had seen him killed. N'Kwane smiled like a dog eating chips off the kitchen floor. Oh dear. Oh dear oh dear. Now faces could be put to the names in the newspaper !
Whilst a ransom was being negotiated for his release Du'Thame did manage to ascertain a few things – some of the curios looked different, maybe things used in African rituals magics ? Also beneath a rug behind the counter was what looked to be a trap door.
Eventaully Du'Thame's release was secured and the party were given exactly 30 minutes to get out of harlem and this was achieved in 10. As the relieved party flagged down a cab Aubrey Murray was heard to declare 'That just f****** cost me $500 you stupid t**** !'
I did try to warn them…