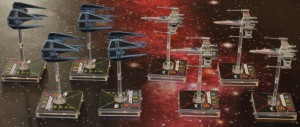 I keep getting asked by newcomers to the game "What is the best X-Wing Squadron". The answer is: "It depends!". However, newcomers to the game often get overwhelmed by the number of choices of ships, pilots and upgrades, so I thought is would be a good idea to put some ideas on squadron design on our site.
One thing to appreciate, is that this is a game that is won or lost on the table, rather than in squadron design. It is not like some other games systems where you put the most points-optimised units from the latest army list onto the table, push them forward and hit the enemy with everything to immediately win the game.  Of course there are squadron lists that will worry your opponent and others that can be recognised as poor before they get onto the table.  But the most important factor is how you use them on the table.
So, the most important factor that you can put into your squadron design is yourself! By this I mean your playing style: is your style cautious, aggressive, defensive, tricky etc.  With experience, you will know which ships suit your style of play best. This series of articles is designed to help you with some of the more effective combinations, and to help the less experienced players get into the game with some useful squadrons
When you start to design an X-Wing squadron, it's easy to get carried away with all those exotic ships, pilots and upgrades so that you finish up with a couple of easy-to-kill ships that cost the earth
It's also easy to get carried away and put into your squadron ships that have very different manoeuvre capabilities, so that they are difficult to fly coherently and focus firepower.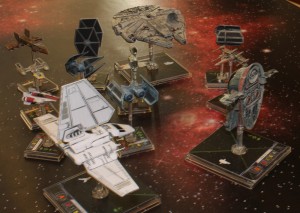 I'm going to split this article into several parts: first, easy-to-fly lists that can do well against anyone, followed by more complex lists that require a good understanding of manoeuvre capabilities, and/or how to get the most out of synergy.  All lists will be based on the 'standard' tournament squadron of 100 points
Down to Basics
If you have read my previous article on tactics, you will know that the key to winning in X-Wing is to maximise and focus your firepower to destroy the enemy . The key factors here are Firepower and Survivability (Shields + Hull Points). If anyone is thinking "Ah, but…", then you are right, agility, upgrades, pilots etc can all make a difference; however, remember that we are starting with the basics.
So, let's look at the Rebel's staple ship, the X-Wing.  The lowest-pointed X-Wing is 21 points, so the maximum all X-Wing list will be four X-wings.
Firepower (total attack dice at Range 2)*                    12
Total Hull + Shield points                                               20
*Range 2 is used for comparison as there are no bonuses/penalties at this range
The attack dice look pretty good – 12 dice is the same as 6 TIE Fighters. This is a common Tournament list, and the many attack dice is the reason this list usually performs well.
Defensively, 20 hits are quite a few to knock off, and the shields mean that the number of crippling critical hits is reduced as well.
As you can see, this list meets both criteria of firepower and survivability.
I personally think this is the easiest to fly list available to the Rebels. Each ship is quite solid, and, with four ships, you can fluff a manoeuvre without too much damage to your firepower.
X-wings are fairly manoeuvrable, not quite as good as the TIE Fighters and Interceptors, but better or equal to most other ships
So, what else? Well, the basic cost of an X-wing is 21pts, so there are 16 points left for pilots and upgrades. This is probably the main drawback of the list, as you will soon use up the points, and still want more upgrades and better pilots.
Let's look at a 100 point squadron of X-Wings: The basic list can be easily tailored to suit your needs.
Luke and Pals
Luke Skywalker, X-Wing Pilot + R2D2 + Shield Upgrade
Rookie Pilot + R5 Astromech
Rookie Pilot
Rookie Pilot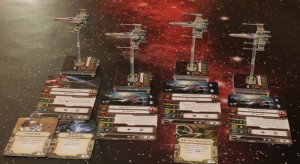 This first list is very basic, with no synergy, all ships being able to operate independently. Luke becomes a prime target because of his points (36), but is difficult to kill because of his own ability and the R2D2/ Shield Upgrade combination. It works best with the four ships combining fire, and Luke drawing fire to protect the others. Then the three Rookies run interference whilst Luke restores his shields with green manoeuvres. Along the way, you will start to lose ships (hopefully not Luke), but will be dishing out serious damage to the opposition
Here's a variation:
Luke and Pals 2
Luke Skywalker, X-Wing Pilot + Swarm Tactics
Red Squadron Pilot + R2-D2
Rookie Pilot + R5 Astromech
Rookie Pilot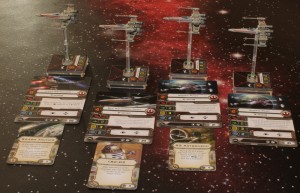 This list has some synergy, with Luke able to hand out Pilot Skill 8 to another ship so that it fires early in the combat phase. This can be very important, increasing the possibility of killing an enemy ship before it has chance to fire.
This list works well on the table with two pairs flying as a team. One pair draws the enemy in, while the other pair gets on the flank. It does require some basic co-ordination: Luke's wingman has to stay within range 1 to benefit from Swarm Tactics; the two pairs have to work as a team – it's no use having the first pair draw in the enemy but then getting outnumbered and destroyed before the flankers get in place. The Flanking pair must move hard and fast to get shots in, ideally before the others are taking hits.
OK, so try this one instead:
Wedge and Biggs and Co.
Wedge Antillies
Biggs Darklighter + R2-F2
Rookie X-Wing
Rookie X-Wing
This Wedge/Biggs combination (or very similar) is possibly the most common four X-Wing list seen in tournaments. And it can do well! Wedge dishes out impressive damage and Biggs keeps him alive for the first 2 or 3 of turns of firing. For maximum benefit from Biggs, this list has to fly close. However, the two rookies can (and should) operate more independently, as the Wedge/Biggs combo will be the main priority for your opponent.
Your main priority when flying this list is to keep Biggs alive and drawing fire away from Wedge as long as possible. Don't be tempted to allow Biggs to take hits for the Rookies – they have to survive on their own merits. So let the Rookies drift away to >1 range from Biggs.  If both Biggs and Wedge survive into the 3rd or 4th turn of shooting, you are likely to win the game, as the damage already done to your opponent should tip the game in your favour
One point to note: even when Biggs is killed, Wedge is still as dangerous as ever, but will have to fly a little more conservatively, as he becomes as easy to kill as a normal X-Wing
And finally:
The Newbies
Rookie X-Wing w/ Proton Torpedoes OR Shield Upgrade
Rookie X-Wing w/ Proton Torpedoes OR Shield Upgrade
Rookie X-Wing w/ Proton Torpedoes OR Shield Upgrade
Rookie X-Wing w/ Proton Torpedoes OR Shield Upgrade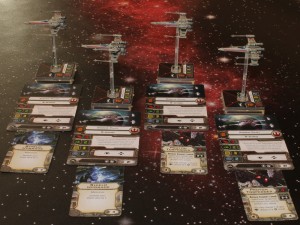 With this list, Proton Torpedoes provide massive hitting power, or the extra shield improves survivability. I would be tempted by a combination such as 2 of each as in the picture, which will also work well.
With this list, you are only likely to get target lock at long range on basic TIEs which have moved before you. That's OK, as PT's are likely to seriously damage or even kill them (I'll take the cost of a 4 point torpedo against a 12 point ship every time)
If you take the combination list (2 of each), then when you get the Target lock for firing torpedoes, consider hanging on to it for a turn and combine it with a focus to make it more effective. Meanwhile let the shielded ships get in front and absorb hits that might otherwise destroy your Torpedo-armed ships before they fire. This can be a risky strategy as an experienced opponent will make the Torpedo-armed ships the highest priority before it launches.
Proton Torpedoes give you some long range heavy hitting power which can reduce the shields, or maybe even damage, big ships
The Proton Torpedoes are a one-shot-wonder, but even after they have been fired, you still have an X-Wing which is capable of dishing it out.
And for the Imperials……
Well, here's a problem: the staple Imperial ship is the TIE Fighter, but it is so cheap in points that you can have a swarm of up to 8 ships, which takes a degree of experience skill to keep it together so that you can combine firepower.  Bearing in mind that this first part of the article is for the easy-to-fly squadrons, I will use the TIE Interceptor as the basic ship. I will look at the TIE swarm in the next article
Although the basic TIE Interceptor is 18 points, which means you can have 5 of these in 100 points, the Interceptor can make good use of upgrades to become even more effective. For this reason, we will look at a basic 4-ship squadron.
When you compare it with the 4-ship X-Wing Squadron, you see:
.                                                                                             TIE Interceptor                  X-Wing
Firepower (total attack dice at Range 2)*                         12                                           12
Total Hull + Shield points                                                    12                                           20
*Range 2 is used for comparison as there are no bonuses/penalties at this range
At first glance, it seems a "No Contest"; although the firepower is the same, the survivability is very poor. Don't worry, because there are other factors that come into play. Firstly, Agility: The Interceptor has 3 dice compared with the X-Wing's 2. This may not sound much, but it does make a significant positive difference to the number of hits that the Interceptor takes. Combined with the ability to do an "Evade" action, the survivability is OK
The Interceptor has a much better manoeuvre dial than the X-wing which will also enhance its survivability. However, I'm going to ignore this, as the following is for players with less experience of manoeuvring X-Wing ships.
OK, so the 18-point Interceptor is poorer on survivability compared to the X-wing (but not as bad as the first glance at the stats might suggest).  A 3-point upgrade to the Interceptor will bring it to the same points as a basic X-Wing. If this upgrade improves survivability, can we make a ship that is comparable to the X-Wing?
The answer is a resounding "Yes!"
Have a look at this list:
Turr's bunch
Turr Phennir, TIE Interceptor pilot + Stealth Device
Saber Squadron Pilot +Stealth Device
Saber Squadron Pilot +Stealth Device
Saber Squadron Pilot +Stealth Device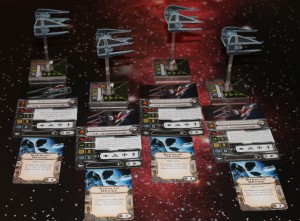 The key tactic to using this squadron is "get in fast, get in close, and hit hard". You will definitely lose if you pussy-foot around in the first couple of turns. This motto applies to all the Interceptor squadrons.
Stealth Device is one of those upgrades that is often overlooked by players – it can look as if the downside (it is lost following the first uncancelled hit) makes it a waste of points. On some ships, I would agree that this is certainly true, but on the right ship it can make a real difference. Any ship with 3 Agility can make good use of Stealth. The extra agility means that you are rolling a minimum of 4 green dice against the attacking dice.
Taking the standard 3-red dice attack as the normal attack, you will roll 4 green dice to defend. Now I know that the odds are slightly stacked towards red dice, but 4 green dice is enough to cancel the red dice advantage. Combine that with focus, or an evade token, and you're much less likely to take damage. If you don't believe me try rolling some dice and see for yourself. Of course there is always a chance that you will roll 4 green blanks and the red dice will come up with 3 hits; but on average, the results will be in your favour.
At long range, with 5 green dice and focus, you are fairly immune to damage. This means that you can get in close to maximise your attack dice before you start to take damage. Even now, at close range, if you still have stealth, you are rolling 4 green dice in defence. In any case, 3 Agility is very useful – TIE interceptors can be annoyingly difficult to damage
This advantage should allow you to get in close and deal out some hefty damage before you start losing ships.
The way to get the most from Stealth is to make your action a focus or an evade, only using Barrel Roll or Boost when you know you are not going to take any fire.
Turr Phennir's ability means he can also avoid taking hits by Barrel Rolling or Boosting out of trouble after he fires. His fairly high Pilot Skill (7) means that he can get out of firing arcs of lesser pilots.
Here's a variation:
Turr's bunch 2
Turr Phennir, TIE Interceptor pilot + Stealth Device + Push the limit
Saber Squadron Pilot +Stealth Device
Saber Squadron Pilot +Stealth Device
Alpha Squadron Pilot +Stealth Device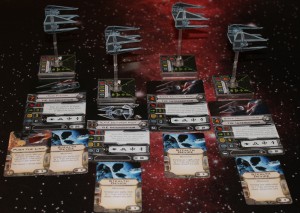 The difference is the Low Pilot skill Alpha. The points difference is made up with "Push the Limit" for Turr Phennir. Push the limit allows two actions at the cost of suffering a Stress Token.  This can allow you to focus and then do a Boost or Barrel Roll to bring an enemy under your guns, or let you do both Focus and Evade if you think you are going to take lots of shots this round.
The downside is that afterwards you must do a green manoeuvre ASAP to remove the Stress Token so that you can continue to focus to make the best use of green dice. Fortunately the TIE Interceptor has one of the highest number of green manoeuvres of any ship.
Turr Phennir can still do his own ability as it is unaffected by Stress.
As before the motto is: "get in fast, get in close, and hit hard".
You don't have to stay with "Push the Limit", so you can modify this list and tweak it to suit your own style of play. For example, Giving Turr Phennir Swarm Tactics allows the Alpha to shoot at Pilot Skill 7 – getting shots in first can be critical if you can destroy an enemy ship before it can fire.
There is plenty of scope for variation with a TIE Interceptor/TIE Fighter Squadron.  If you feel up to trying more ships, drop an Interceptor and replace it with two basic TIE Fighters:
Turr's bigger Bunch
Turr Phennir, TIE Interceptor pilot + Stealth Device
Saber Squadron Pilot +Stealth Device
Saber Squadron Pilot +Stealth Device
Academy TIE Fighter Pilot
Academy TIE Fighter Pilot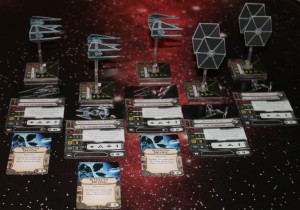 Note that the Academy Pilots have no Stealth Device. It isn't such a big deal as you might think since your opponent will be concentrating on dealing with the higher pointed, and more dangerous, ships rather than the cheap TIEs.  If he doesn't, then that is to your advantage, as the more dangerous ships can get in close before they take hits
This squadron will be more challenging to co-ordinate, as there is a large range of Pilot Skills (PS1 – PS7) plus an extra ship. The fact that the ships move at different times means you will have to think carefully about your movement and actions as the manoeuvres of your opponent may have an impact on your co-ordination. It will be a good introduction to flying larger groups, so you can see the issues around flying a 7 or 8 ship swarm.
The cheap and cheerful TIE Fighters move first and so you can be quite cavalier with them, throwing them straight at the enemy.  If your opponent ignores them, try moving them into the area where you think his ships will finish. You are likely to cause a collision which means he loses his action. You may also find you are able to get in some good 3-dice attacks.
Other Options:
If you want to experiment with other ships in any of these squadrons, try replacing an Interceptor with a named Pilot TIE Fighter. The only real (negative) difference that the TIE Fighter brings is 2 attack dice compared with three.  This can be mitigated by using Mauler Mithel (17 pts) or Backstabber (16 pts) who both gain an attack dice under certain circumstances. You can spend the additional points gained on other upgrades. You can also try adding synergy with Howlrunner(18pts) who gives a reroll of an attack dice to nearby ships. Remember to give them stealth to improve their survivability
Well, that's it for now. This is the first part of a multi-part article. I will follow it with a look at Squadrons that provide synergy, Complex Squadrons and using Big Ships.
Happy flying and may the Force be with you