The Battle for El Jazirah
Vitai Lampada
"They Pass On The Torch of Life"
There's a breathless hush in the Close to-night —
Ten to make and the match to win —
A bumping pitch and a blinding light,
An hour to play and the last man in.
And it's not for the sake of a ribboned coat,
Or the selfish hope of a season's fame,
But his Captain's hand on his shoulder smote —
'Play up! play up! and play the game!'
The sand of the desert is sodden red, —
Red with the wreck of a square that broke; —
The Gatling's jammed and the Colonel dead,
And the regiment blind with dust and smoke.
The river of death has brimmed his banks,
And England's far, and Honour a name,
But the voice of a schoolboy rallies the ranks:
'Play up! play up! and play the game!'
This is the word that year by year,
While in her place the School is set,
Every one of her sons must hear,
And none that hears it dare forget.
This they all with a joyful mind
Bear through life like a torch in flame,
And falling fling to the host behind —
'Play up! play up! and play the game!'
Sir Henry Newbolt (1862-1938)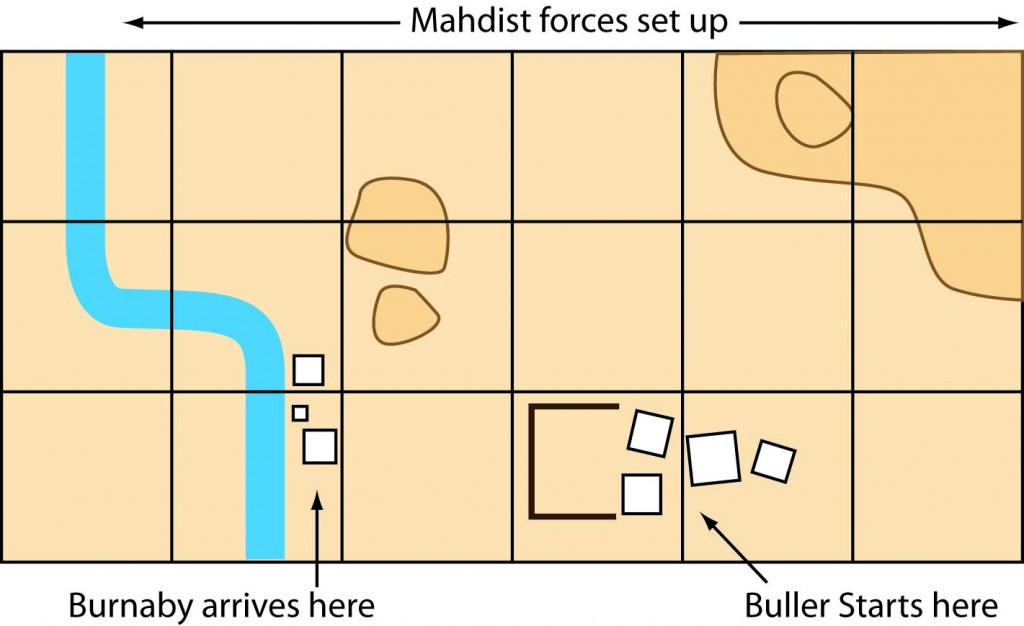 In this game of Black Powder set during the Sudan Madhist Uprising, a British garrison must hold the supply dump at the small town of El Jazirah against the mahdist forces threatening the Nile at Firket. They must hold out for as long as they can until Burnaby's column can reinforce them.
The Madhist forces must drive the British Infidels from their land. They in turn need to cut off the supply lines at El Jazirah before capturing the town of Firket by the Nile.
The mahdi's forces gather on the hills across the desert crying 'Death to enemies of the Mahdi!' & 'Death to the Infidel!'. The stout hearted forces of the Her Majesty prime their guns and ready themselves for the attack.
The British forces are as follows:
Commander in Chief – General George H. Wolseley (Staff Rating 8)
Major Redvers Buller's 1st Brigade (Rating 7)
The Gordon Highlanders
The Kings Own Rifles
The York and Lancashire Regiment
The Royal Irish Fusiliers
2 Gatling Guns
Buller starts in the garrison at El Jazirah
Major Fred Burnaby's Indian Brigade (Rating 7)
The 19th Bengal Infantry
The 20th (Brownlow's) Punjab Infantry
The 2nd Queen's Own Sappers and Miners
2 Screw Guns (on the steamer)
2nd Bengal Cavalry (Gardner's Horse)
2 Units Duke of Cornwall's Light Infantry as Camel Corps (Peterson's Scouting Camelry)
Burnaby arrives on turn 3 at the nile town of Firket
The Mahdist forces are as follows:
Commander in Chief – Osman Digna (Staff Rating 7)
Abu Hamsa's Ansar Command (Rating 8)
6 units of Mahdist infantry
1 unit of mahdist Skirmishers
1 Gun Battery
Sulamin's Beja Command (Rating 8)
6 units of Mahdist Beja (Fuzzy Wuzzy) infantry
1 unit of mahdist Beja Skirmishers
1 Gun Battery
Madana ibn ali's Cavalry Command (Rating 8)
2 Units of Baggara Horse
2 Units of Beja Camelry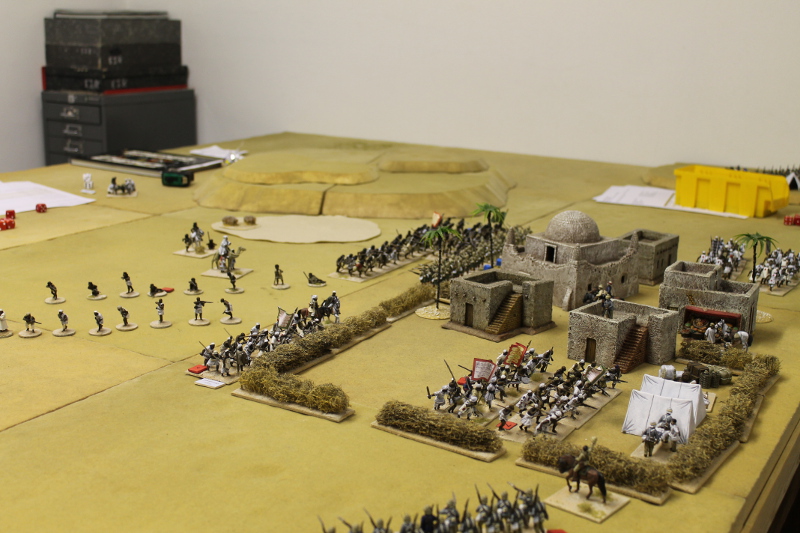 The game begins with some very fast moving Madhist forces rushing the garrison while being screened by skirmishers firing looted Eqyptian rifles. As they crash into the Britsh line winning their opening rounds of combat, the British have to rely on their STEADY bonus, automatically passing any initial break tests. The British then manage to manouver a unit to attack the madhists in the flank, but this has little effect.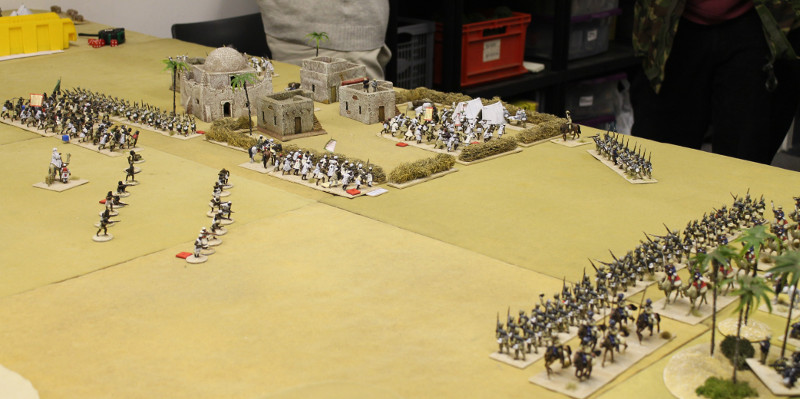 As things start to look dicy for the Brits, Burnaby's column turns up at the Nile and deploys in quick order into a firing line, delivering a withering fire into the Mahdist flank. Buller's brigade finally breaks and falls back into the town holding the buildings to become a thorn in the mahdist side. Burnaby's firepower is too much for the Mahdi's forces and they finally break leaving the British with a victory.