Battle of Magnesia – 190 BC
A re-fight at St Helens Wargames Society in 2014.
The Romans:
2 Roman Legions each of 4 Hastati, 4 Principes, 2 Triari, 2 Velites.
2 Italian Legions each of 4 Hastati, 4 Principes, 2 Triari, 2 Velites.
1 Pergamene Command of 3 Xystophoroi (Heavy Lancers), 2 Light Cavalry (Javelins), 4 Thureophoroi (Medium Spearmen), 4 Asiatic Light Infantry archers.
1 'Roman' Cavalry command of 2 Roman Equites (Heavy Cavalry), 2 Allied Equites (Heavy Cav), 2 Tarantine Light Cavalry (Javs)
The Seleucids:
Right Van: 2 Agema Cataphracts, 4 Cataphracts, 2 Xystophoroi, 2 Tarantine Cavalry.
Right Flank: 3 Thureophoroi (medium infantry Spear), 3 Thorakitai (Heavy infantry Spear), 2 Thracian infantry, 1 Elephant unit, 1 Mysian medium infantry bow, 4 Light infantry (mix of Javelins, bow and sling).
Right Centre: 3 Argyraspides, 2 Phalangites, 2 LI sling, 2 Cretan LI bow.
Centre: 5 Phalangites, 2 Li sling, 2 Asiatic LI bow.
Left Centre: 2 Elephants, 3 Galatian Tribesman, 3 Asiatic tribesman, 3 Mysian Archers, 1 LI sling, 1 LI bow
Left Flank: 1 Companion Hcav, 2 Cataphracts, 2 Xystophoroi, 4 Galatian Cavalry
Left Van: 4 Scythed Chariots, 3 Militia Light Cavalry, 3 Saka Horse Archers
Argyraspides and Phalangites are double depth pike units.
The Deployment:  Both side deployed in a semi historical fashion.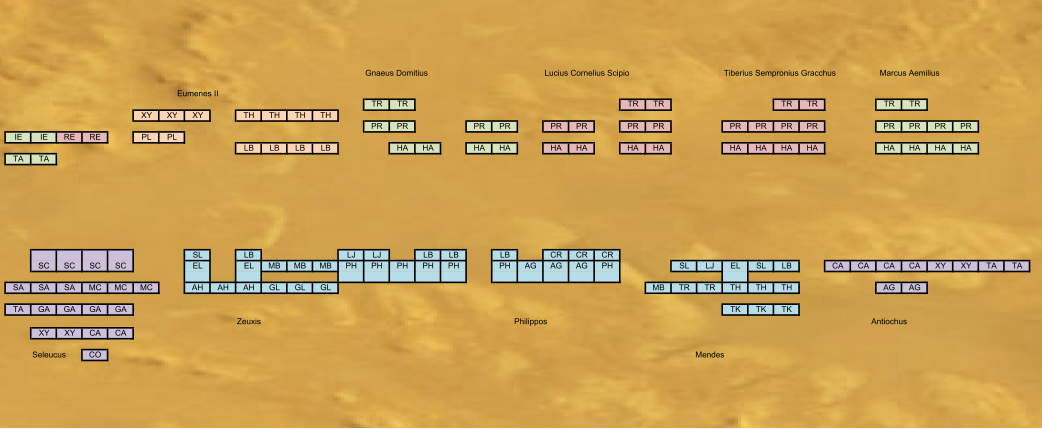 Key:  Seleucids: IE = Italian Equites (Heavy Cav),  RE = Roman Equites (Heavy Cav), TR= Triarii , Pr= Principes, HA= Hastati, SC = Scythed Chariots, SA= Saka Horse Archers, MC= Militia Light Horse, TA=Tarantine Light horse, GA= Galatian Cavalry, XY= Xystophoroi Lancers, CA = Cataphracts, CO= Companions,  SL= Slingers, EL=Elephants, AH= Asiatic Hillmen, GL= Galatian warriors, MB= Mysian Archers (Medium Foot), LJ= Light foot Javelins, PH= Line Phalangites, LB= Light Foot Bows, AG= Agyraspides Pike, Cb = Cretan Bows (light foot),  TR= Thracian Foot (medium Foot), TH= Thureophoroi (medium Foot spear), TK = Thorakitai (Heavy foot Spear), AG= Agema Cataphracts.
This proved to be a very hard fought and balanced fight.  The Seleucids won but it was very much a Pyrrhic victory.  The Roman deployment put too much weight on their left flank and as a result their right was swept away by the Seleucids.  The Centre was initially going the way of the Seleucids but the number of replacement Roman/Italian units were beginning to out manoeuvre and wear down the Seleucid Phalanx.  On the Roman left Graccus's Romans crushed the Thureophoroi and drove them from the field.  Only the constantly manoeuvring cavalry of Antiouchus held up the Roman left from wheeling right onto the Phalanx's flank.
I would like to try fighting Magnesia again with a free deployment for both sides.