Interested in Joining in our X-Wing Tournament at Phalanx this year? only £10.00 gets you entrance to Phalanx as well as the Competition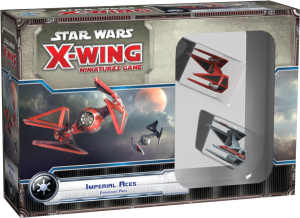 The Tournament will comprise of four games, first round paired randomly, further rounds paired in ranking order. Prizes will be awarded to the best three players: details of prizes and any other giveaways will be announced later
There will be a prize draw for an Imperial Aces pack. The first 16 players to register will be entered in the draw! Get in quickly to ensure you are in the draw
Fill in the booking form on the right, and then Click Pay Now to use PayPal for payment, alternatively if you don't have a PayPal account, you can pay with a cheque in advance made out to the "St Helens Wargames Society" (Still fill out the booking form on the right), then post the cheque to the address below, and we will add you to our list.
St Helens Spartans
3 Canterbury Street
Dentons Green
St Helens
Merseyside WA10 2AJ
A confirmation email will be sent after payment is cleared guaranteeing your place in the competition.
Rules of the Tournament
[table "" not found /]
All Tournament Rules, FAQs/Errata and other relevant information can be found on the FFG  X-Wing support page.
Players should be familiar with the FFG Tournament Rules and bring a copy of the FAQs/Errata
Players must provide at least two identical Squadron Lists, one of which must be given to the Tournament Organiser at registration. Handwritten lists are acceptable provided they are on the official FFG Squad List form. Any Squad list must provide all relevant information as listed in the FFG Tournament Rules
Check your Squad list before submitting it. All Squad Lists will be checked to ensure validity. Any invalid Lists will result in the owning player being disqualified from the Tournament with no refund of entry fee.
Each player must bring an X-Wing Rule Book, all relevant Models, Flying bases, and any other components he needs to use his squad in the Tournament. This includes but is not limited to dice, a range ruler, manoeuvre templates, asteroid tokens and a complete Damage deck. A player cannot bring more than one copy of each asteroid token. The Tournament Organiser will not supply any game components to players